Podcast: Play in new window | Download | Embed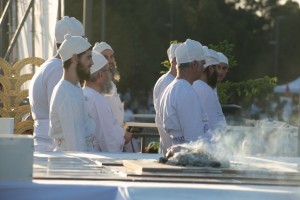 Exodus 29 (NIV)
1"This is what you are to do to consecrate them, so they may serve me as priests: Take a young bull and two rams without defect. 2And from the finest wheat flour make round loaves without yeast, thick loaves without yeast and with olive oil mixed in, and thin loaves without yeast and brushed with olive oil. 3Put them in a basket and present them along with the bull and the two rams. 4Then bring Aaron and his sons to the entrance to the tent of meeting and wash them with water. 5Take the garments and dress Aaron with the tunic, the robe of the ephod, the ephod itself and the breastpiece. Fasten the ephod on him by its skillfully woven waistband. 6Put the turban on his head and attach the sacred emblem to the turban. 7Take the anointing oil and anoint him by pouring it on his head. 8Bring his sons and dress them in tunics 9and fasten caps on them. Then tie sashes on Aaron and his sons. The priesthood is theirs by a lasting ordinance.
"Then you shall ordain Aaron and his sons.
10"Bring the bull to the front of the tent of meeting, and Aaron and his sons shall lay their hands on its head.
Did you enjoy this class?
Share Torah Means Teacher!