Podcast: Play in new window | Download | Embed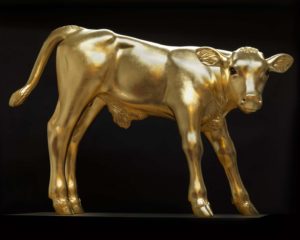 Exodus Ch. 31 (NIV)
18When the Lord finished speaking to Moses on Mount Sinai, he gave him the two tablets of the covenant law, the tablets of stone inscribed by the finger of God.
Exodus Ch. 32 (NIV)
1When the people saw that Moses was so long in coming down from the mountain, they gathered around Aaron and said, "Come, make us godsa who will go before us. As for this fellow Moses who brought us up out of Egypt, we don't know what has happened to him."
2Aaron answered them, "Take off the gold earrings that your wives, your sons and your daughters are wearing, and bring them to me." 3So all the people took off their earrings and brought them to Aaron. 4He took what they handed him and made it into an idol cast in the shape of a calf, fashioning it with a tool. Then they said, "These are your gods,b Israel, who brought you up out of Egypt."
Did you enjoy this class?
Share Torah Means Teacher!