Podcast: Play in new window | Download | Embed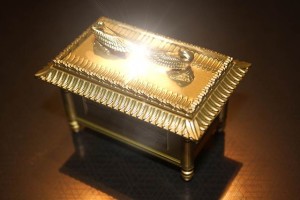 There is a brief review of last class at the beginning of this recording.  Then we pick up with verse 9.  Below are the relevant verses. Thanks for listening!
Exodus 25 (NIV)
1The Lord said to Moses, 2"Tell the Israelites to bring me an offering. You are to receive the offering for me from everyone whose heart prompts them to give. 3These are the offerings you are to receive from them: gold, silver and bronze; 4blue, purple and scarlet yarn and fine linen; goat hair; 5ram skins dyed red and another type of durable leathera ; acacia wood; 6olive oil for the light; spices for the anointing oil and for the fragrant incense;7and onyx stones and other gems to be mounted on the ephod and breastpiece.
8"Then have them make a sanctuary for me, and I will dwell among them. 9Make this tabernacle and all its furnishings exactly like the pattern I will show you.
10"Have them make an ark of acacia wood—two and a half cubits long, a cubit and a half wide, and a cubit and a half high. 11Overlay it with pure gold, both inside and out, and make a gold molding around it. 12Cast four gold rings for it and fasten them to its four feet, with two rings on one side and two rings on the other. 13Then make poles of acacia wood and overlay them with gold. 14Insert the poles into the rings on the sides of the ark to carry it. 15The poles are to remain in the rings of this ark; they are not to be removed. 16Then put in the ark the tablets of the covenant law, which I will give you.
Did you enjoy this class?
Share Torah Means Teacher!