Podcast: Play in new window | Download | Embed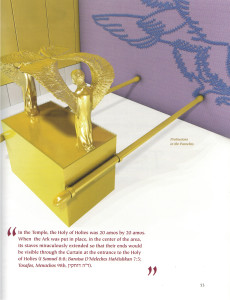 After some review we pick up where we left off from the last class.  We are discussing the Mishkan and it's furnishings.  The class moves through Exodus Ch. 25 verse 8 to about verse 22.  Below are the relevant verses and I have included some pictures from Artsroll's Mishkan book.
Exodus Ch. 25 (NIV)
8"Then have them make a sanctuary for me, and I will dwell among them. 9Make this tabernacle and all its furnishings exactly like the pattern I will show you.
10"Have them make an ark of acacia wood—two and a half cubits long, a cubit and a half wide, and a cubit and a half high. 11Overlay it with pure gold, both inside and out, and make a gold molding around it. 12Cast four gold rings for it and fasten them to its four feet, with two rings on one side and two rings on the other.13Then make poles of acacia wood and overlay them with gold. 14Insert the poles into the rings on the sides of the ark to carry it. 15The poles are to remain in the rings of this ark; they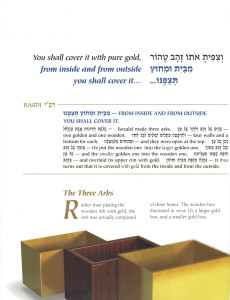 are not to be removed. 16Then put in the ark the tablets of the covenant law, which I will give you.
17"Make an atonement cover of pure gold—two and a half cubits long and a cubit and a h
alf wide. 18And make two cherubim out of hammered gold at the ends of the cover. 19Make one cherub on one end and the second cherub on the other; make the cherubim of one piece with the cover, at the two e
nds. 20The cherubim are to have their wings spread upward, overshadowing the cover with them. The cherubim are to face each other, looking toward the cover. 21Place the cover on top of the ark and put in the ark the tablets of the covenant law that I will give you. 22There, above the cover between the two cherubim that are over the ark of the covenant law, I will meet with you and give you all my commands for the Israelites.
Did you enjoy this class?
Share Torah Means Teacher!